DISCOVER PULSED ELECTRIC FIELD TECHNOLOGY FOR YOUR WINE PRODUCTION
7th Jul 2020. -Session over, sign up for recording.
Pulsed Electric Field (PEF) treatment of the freshly mashed grapes gently opens pores in the grape's cell membrane, using a precise, targeted and rapid electrical pulse. This increases the extraction of valuable compounds like anthocyanins and polyphenols that are important for the flavour and quality of the wine. Faster extraction leads to a reduced maceration time by up to 50% resulting in more production capacity and less energy and water consumption.
Another PEF treatment of the lees causes faster autolysis and consequently a faster release of flavour compounds, polysaccharides, amino-acids and mannoproteins from the dead yeast's cell wall. These compounds cause a "creamier" mouthfeel and add complexity and body to the wine.
Before bottling, another and more intensive PEF treatment inactivates spoilage microorganisms at low temperature and reduces the need for sulphites (SO2) without losing taste. This last treatment is also very suitable for unfiltered wines to avoid a secondary fermentation in the bottle.
Elea provides a range of PEF solutions for any wine processing, the latest being the compact and flexible Advantage P 1. Designed for the smaller
production line it is capable of processing up to 6t/h of grape mash.
Join us online at Elea for insights, demonstrations and expert advice on how PEF can improve your wine production. A Q&A session will allow addressing any open questions.
Our Managing Director Stefan Töpfl and our Scientific Engineer Julian Witt will guide you through how PEF works, perform a live demonstration on extraction and will discuss product and process benefits first hand.
We are looking forward to e-welcome you!
IMPROVE QUALITY, ENHANCE PRODUCTION AND BENEFIT FROM NEW OPPORTUNITIES.
SIGN UP NOW FOR THE RECORDING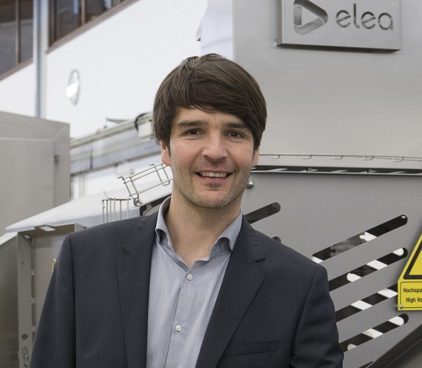 Prof. Dr. Stefan Töpfl
Managing Director at Elea
Julian Witt (M. Sc.)
R&D Engineer at Elea