ELEA PULSED ELECTRIC FIELD ADVANTAGE DEMO DAYS 2019
5th-7th Nov 2019. Quakenbrück, Germany.
We would like to invite you to 3 days of Pulsed Electric Field discovery & insight at the custom-built facility for the development of PEF technology at Elea in Quakenbrück, Germany.
PEF workshops and demos will be given by PEF experts who are practising their business every day. Topics will be ranging from snacks processing, juice preservation and wine manufacturing to drying, extraction and cell disintegration.
Leading international PEF experts will give an insight into theoretical knowledge on the sustainability aspects provided by PEF systems,
electroporation in wine science, insights into the snack industry and extraction of valuable compounds.
Combined with a social programme, three interesting and memorable days are guaranteed.
Application deadline is extended to October 24th 2019. Any queries? Contact Isabell Beyer via email i.beyer@elea-technology.com
PEF INSIGHTS, DEMONSTRATIONS AND ONE-TO-ONE ADVICE
Attend one day of practical insight and gain hands-on experience in Pulsed Electric Field technology at Elea's custom build pilot halls.
Juice processing
PEF treated juice has fresher taste, better colour, higher retained nutritional value, than thermal pasteurization which has negative effect on the quality of the product. We will treat freshly squeezed juices in our PEFPILOT™ Dual to demonstrate PEF's positive effect.
Snacks production
Processing French fries and chips with PEF results in a higher quality product, new product opportunities and economic benefits. This demo will give new insights and practical background information about the process, its effect on raw materials, product development and improvement of the whole downstream process.
Drying
Elea will demonstrate how Pulsed Electric Field benefits drying applications and your drying business. Elea PEF provides better form stability, intense flavour and brighter colour to dried products. Electroporation enhances mass transfer, in this case, evaporation, leading to increased line capacity and energy savings.
Extraction
The focus of this demo is the analysis of yield increase due to PEF treatment. PEF opens the cell membrane and as a consequence, the extraction of liquid and valuable compounds is increased. Within this demo, juice will be produced and the influence of PEF, as well as different pressing methods, will be examined.
Equipment
More than 125 Elea PEF systems are already working for some of the world's leading food producers. Our range is comprised of 3 system types: The Elea Advantage™ Belt systems for solid applications, the Elea Advantage™ Pipe systems for liquid and semi-liquid applications
and the PEFPilot™ Dual for trailing and small production.
Cell disintegration and control tools
You will perform the PEF treatment of solid plant raw materials and explore the electroporation effect on different plant tissues. With our control tools PEF Control™ and Cut Control™, you will be able to quantify its cell disintegration index and evaluate how helpful they are in supporting manufacturing and research.
Agents training
(For our distribution partners only) This section starts on the morning of Nov 5th. We welcome our agents for a special training day dedicated to how to introduce interested parties to the Elea Pulsed Electric Field system range in several sectors. How to overcome the classical hurdles, and what are typical questions and answers? What improvements can our electroporation systems bring to clients and where are the borders? What are the capacities and which applications are most beneficial? How to meet the design and marketing requirements of Elea?
Welcoming all visitors
This part starts on the afternoon of Nov 5th. Industrial visitors and our agents will partake the 3 Advantage days together. You will get an introduction into how PEF works and a little overview in PEF science. The recent industrial implementation, as well as industrial opportunities for PEF technologies, will be presented.
PEF Advantage system range
Our range is comprised of 3 system types: SmoothCutTM for solid products, CoolJuiceTM for liquids and PEFPilotTM for research and trialling. Learn about Elea's PEF system range and capacities, topped with our service and maintenance options.
Equipment tour
All of our Pulsed Electric Field systems are manufactured by us at our facility in Quakenbrück, Germany. Designed, engineered and built by experts in PEF to the highest specifications. Get insights into our equipment display area and learn how our systems can be beneficial to your manufacturing.
Lectures from invited speakers
We invited international PEF experts from all over the world to talk to you about insights into PEF in the snack industry (Brian Meyer from Tayto, UK), benefits of electroporation in wine science (speaker to be confirmed), important sustainability aspects (Sergiy Smetana from DIL, Germany) and enhanced extraction of valuable compounds (speaker to be confirmed).
PEF workshops and demos
They aim to provide hands-on experience on major topics relevant for PEF applications. We will offer six different pilot hall workshops: Juice processing, snack production, drying, extraction, plant cell disintegration and equipment show.
One-to-One sessions
You will have the opportunity to speak with our PEF experts exclusively on One-to-One sessions about possible applications fitting your business. Here you can ask anything you want under the umbrella of confidentiality.
Special events
In the evenings, there will be time to attend dinners and a gin-tasting. As a very special extra, we will perform a world record attempt together with you and need your help here!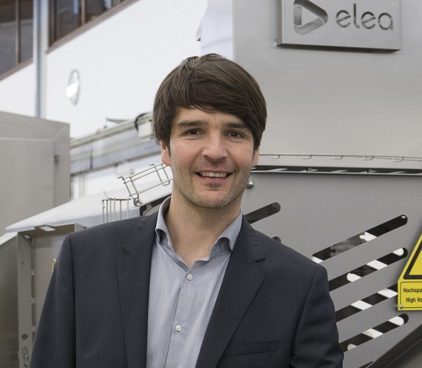 Prof. Dr. Stefan Töpfl
Managing Director at Elea
Dr. Claudia Siemer
R&D MANAGER AT ELEA
Dr. Oleksii Parniakov
PRINCIPAL SCIENTIST AT ELEA