Let's talk about PEF with Dan Perry from Middle East
We sat together with Dan Perry, Managing Director of Kaydee Solutions from Dubai. KayDee Solutions specialises in full specification, supply, installation and service support for industrial, food and beverage process and packaging equipment for the Middle East and is Elea's Sales Representative for this region.
From their United Arab Emirates office, the KayDee Solutions team bring years of experience and know-how, offering partners the complete package from concept through to implementation. Combined with a world-leading product range developed to international standards, the company provides customers with the most effective solutions, creating value for their current process and upcoming projects.
Dan, what is your motivation for selling PEF technology in the Middle East?
PEF is a new technology for this region, and the potential is high. Extending the shelf life of juice has traditionally been achieved through thermal processes, so there is huge scope for the juice industry to convert to PEF treatment to achieve higher quality and longer shelf life at the same time.
So far, the Middle East snack industry is a totally untapped market for Pulsed Electric Field technology. 80-90% of food, especially French fries, is imported, but since Covid and the shortages brought by the lack of transport, there has been a huge push for local production. Larger French fry plants are on the rise, and after two recent sales in this area, we now have two excellent reference sites for promoting PEF in the potato processing industry. ELEA is constantly finding new markets, i.e. the use of PEF in the freeze-drying process, and with these new developments, we have more opportunities to offer PEF systems to our market. I see Elea as our most important partner for the coming year and I will use all available resources to promote both PEF as a technology and Elea as a company.
What is your experience so far working with Elea?
So far it has gone without any hitch. We are currently promoting PEF to one of the largest juice producers in the region. Together with the customer, we will be visiting the ELEA site during the Anuga trade fair, where we will be conducting trials to demonstrate the benefits of PEF. If this is successful, which we expect it will be, a sale to this well-known company will open up the juice market in the region and accelerate the use of PEF in juice.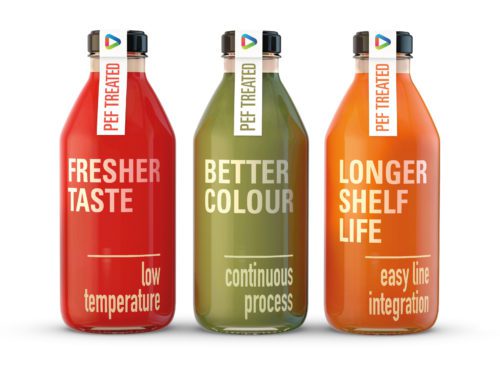 What do you think are the most important benefits of PEF?
One of the most important benefits I see is the use of PEF in the processing of potatoes (snacks and fries) and the cost savings it enables. In addition, PEF can extend the shelf life of juices without damaging the product, which is essential for local producers of such products.
What will happen next? Where do you see PEF in the future in the Middle East?
I consider PEF to be one of the most important recent technological introductions in the Middle East food industry and I see the time coming when it will be seen as an essential part of the production line.
Thank you very much, Dan!
Meet Elea and Kaydee Solutions at Guldfood Manufacturing
Our Elea sales agents understand what is essential to their local clients. Regional expertise and proximity make planning, trials and installation all the easier. Meet Dan and our Elea Sales Manager Johannes Pfeiffer at Gulfood Manufacturing taking place from 7-9 November 2023 at Dubai World Trade Centre. Discuss PEF options for shelf-life extension or texture modification and energy and cost savings and discover how our Elea Pulsed Electric Field (PEF) systems can improve your business.